It's that "in between" time of the year…
Are you holding on tight to Summer or looking forward to the Fall?
August is a strange month, especially for moms and businesses. For moms, it means a transition from summer fun (or summer frustration) to rigid school schedules and new routines. For businesses, it is the slight lull before the busy trade shows and holiday shopping season. Stores are full of back-to-school supplies and pushing out the Halloween merchandise way too early. It's a little busy, but not hectic…yet.
Hopefully that means you can take a little time to think about giving.
August is the perfect time to be thinking about giving.
With most charities receiving 41% of their contributions during the last few weeks of the year (Thanksgiving to New Years), the months leading up to November are tight for them and the people they serve. Similarly, many people don't think about volunteering at organizations like soup kitchens and homeless shelters until the holidays. But, those places need help year-round.
So, why do we push much of our giving to the end of the year?
Is it the spirit of the holiday season? Can't we experience that all year?
Giving connects us to other people.
With so much loneliness in a digitally-connected world, giving opens a door to true human connection. It enriches our human experience. This story I read last night demonstrates how disconnected we've become and how we can make simple changes to overcome it — changes as simple as looking up from our phones to make eye contact with a stranger.
There are lots of ways to give, both with our time and our money.
The goal is to give with intention, but not for any reason, and never with any expectation. We've all heard the saying, "It is better to give than to receive." (Or, "It is more blessed to give than to receive." Acts 20:35). When we give money or time, we experience joy and fulfillment. Studies have even shown that giving our time makes us healthier. There's no shortage of need in the world — friends who need extra support, children battling chronic illness, veterans facing homelessness, animals who need protection, strangers who just need a smile or touch on the arm… We can pick our cause and how we choose to give.
Giving in contagious.
Whether it is karma or biology, giving inspires giving. A study published in the Proceedings of the National Academy of Science, shows that,
When one person behaves generously, it inspires observers to behave generously later, toward different people.
The researchers found that altruism could spread by three degrees—from person to person to person to person. Therefore, when you give, you are starting a chain reaction of kindness and generosity. How powerful is that? Whether you are a business owner, a stay-at-home mom, a student, or in any other occupation or situation, you have the same power to give as everyone else does.
So, let's do it!
August is a great time to give, and giving is good for us, so let's give!
Let's gather all that holiday spirit and enthusiasm and unleash it now — months away from the holidays. Let's celebrate the Summer Spirit of Giving.

Along with Boogie Wipes, Spin Kindness and over 40 mom businesses, Mompact is focusing on giving for the month of August. We've recreated some of our favorite holiday giving activities like a Virtual Giving Tree, where moms give and receive anonymous gifts. The generous mom business owners of Mompact are fulfilling over 100 gift requests this month.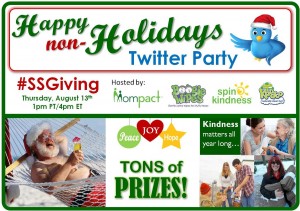 We're focusing on connecting too.
Join us for a virtual non-Holiday Party on Twitter this Thursday, August 13th at 1 pm PT. We'll talk about kindness and giving and provide lots of free gifts! Find us by searching #SSGiving on Twitter. RSVP now to be entered into a drawing for a big Summer prize bundle.
All month, you can also enter our #SSGiving Giveaway. We're giving away four big bundles of prizes and we'll have additional bonus giveaways throughout the month.
Some Ideas for Giving
Need a little help getting started? We hope you'll join us for the Twitter Party to discuss ideas, but here are some you can consider now:
Acts of Kindness
Random acts of kindness can take only a moment and often don't cost anything. Check out 100 Daily Acts of Kindness at Spin Kindness. For ideas from one mom to another about ways to brighten someone's day this summer, check out Kathryn's post on CumminsLife. We love how she involves her children!
Giving to Other Moms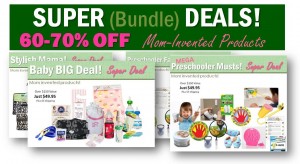 Moms do so much for everyone else. We often forget to receive, especially at times we need it most. Some of the biggest challenges come for new moms. This month on Toddling Around Chicago, Sarah shares some great tips for gifts for new moms. In light of breastfeeding awareness month, consider how you can give to moms who are breastfeeding.
If you know a mom who could use a gift, check out the great deals on bundles of products invented by moms. And, check out these special sales and deal  for #SSGiving.
Be Aware and Present
The most important way you can give is to be aware and be present. Your attention is your gift to others. Giving of your time can make all the difference in the world to someone, like it did in this story when a boy saved a life with three words.
Have other ideas? Share them in the comments below!