Moms are spectacular at coming up with products that help other moms. Moms invent out of necessity: the need to save time, to make tasks easier, to be more environmentally friendly, and to be a better mom.
But, some mom inventors develop products that change lives.
Seeing a video like this one from Bare Air-Free bottles, you can see why some entrepreneurs are so passionate about their products. Although taking a product to market can be overwhelmingly frustrating at time, few "jobs" allow you to make something that has a direct impact on others.
Take a look below at how these mom-invented products have made tremendous differences in the lives of others. Then, scroll to bottom of this page to see how you can win some of them!
Bare® Air-Free Bottles
How would you like to be responsible for stopping a baby's crying or helping parents get the sleep they need? One mom inventor knows exactly how that feels.
Priska Diaz struggled with breastfeeding soon after having her first child.  Popular store brand bottles led to gas and alternating between breastfeeding and bottle feeding resulted in nipple confusion.
Priska's solution, Bare® Air-Free Bottles, address the needs of all moms who (sometimes or always) bottle feed. The syringe-like function minimizes air ingestion while feeding to help prevent gas and colic.  And, the uniquely designed nipples work to mimic the breasts' flow resistance and suckling motion. Whether moms choose to transition to bottles after breastfeeding, supplement with bottles, or start out with them, the right bottle makes all the difference.
Moms who have spent countless sleepless nights tending to a colicky baby know the value of a bottle that does not cause gas.  The chronic awakings are painful for everyone, often putting a strain on relationships. Bare Air-Free Bottles prevent gas and help the whole family sleep better.
Visit Bare's Facebook page to read detailed testimonials and watch videos of how Bare bottles changed the lives of moms and babies like 11-week old Alberto who suffered with severe gas pains. Thanks to Bare Air-free baby bottles he has peaceful feedings and no more pain.

Buzzy®
Amy Baxter M.D., an emergency pediatrician and pain researcher, has helped countless parents and children facing the pain of immunizations and therapies that involve needles. Amy's invention, Buzzy® is a breakthrough pain blocker that provides natural pain relief in seconds.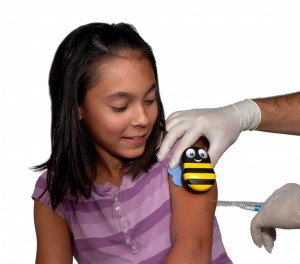 Buzzy is a life saver to children of all ages and to their parents who have to endure the heartache of watching her child receive immunizations. And, Buzzy is not just for children. As a couple users explain,
"I have fainted every time I've had an IV in recent memory, including for 3 c-sections in the last 5 years (my doctors call it a vasovagal response). I was petrified going into a hernia repair, very worried about fainting again. This time, I used Buzzy® at the IV site (the nursing staff was very agreeable, given my history of fainting) and I didn't faint! I was so relieved."  – Jennifer T.
"I purchased a Buzzy for my daughter right out of the NICU… knowing she would be getting a lot of shots, I wanted to prevent her from the "needle horror" I have. Now that I am a chemo patient that gets poked many times a day every three weeks, I can honestly say, it was the best investment we've ever purchased!!! The poor bee has been to two states and three hospitals – none of whom have even seen it before." – Stephanie M.
Through her research and perseverance, Amy has created a product that helps a variety of patients. Learn more by visiting the Buzzy website.
CuddleCloth®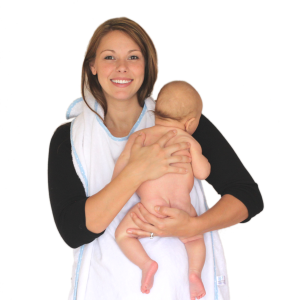 Providing extra safety for babies is a common goal for many mom inventors. Mary Purcaro of CuddleCloth has reached that goal with her luxury safety towel that helps moms keep their hands free while handling slippery babies at bath time. The towel secures around moms neck while lifting baby, then releases to form a generous, soft hooded towel for baby.
Babies are very slippery after a bath, and accidents happen. CuddleCloth helps prevent them.
Here's what reviewers are saying on Amazon:
"Oh my goodness, this towel is a must have! Before this towel, with my first born, bath time was tricky. I would literally lay a towel down on the bed, bathe my son, then walk with my dripping slippery baby to the towel across the room and wrap him up. Poor guy!!! Now that I have Cuddle Cloth, bath time with my second child is a breeze!! Cuddle cloth is so soft and really well made with beautiful quality. Highly recommend!!!!!!" – A & W
"I purchased this towel for my newborn and now, almost eight months later, it is still the first towel I reach for at bath time. It is big enough that it not only protects my clothes & body from getting wet, but it also grows with your baby from the newborn stage until toddlerhood. My only recommendation is to buy two of them, so you aren't stuck using a regular bath towel when the cuddlecloth is in the wash!" – Mommy24
Enter to win a CuddleCloth in our giveaway below.
Parking Pal® Magnet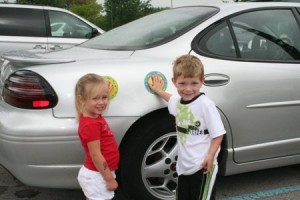 Keeping children safe is a priority for Denise Whitney, a nurse and mother of three boys. As a nurse, Denise has seen the results of tragic accidents. As a mother, Denise found herself very stressed out in parking lots trying to manage 2 other kids while getting the baby in and out of the van. That's when she came up with the Parking Pal Magnet, a large round magnet that can be placed directly on the car surface. Children keep one hand safely on the magnet while mom or dad load children or shopping bags. Clever designs help keep children occupied as they wait to get safely in the car.
On average, 229 children die each year after being struck by a vehicle in a driveway or parking lot. With tens of thousands of Parking Pal Magnets sold, it is impossible to guess how many lives have been saved.
Denise's newest product is a fabulous book called "Cars Are Big And I Am Small."  It is a book that teaches about safety around vehicles and in parking lots through fun, colorful illustrations.
PooPoose™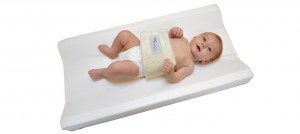 Another safety item for babies prevents traumatic head injuries that commonly happen with traditional changing tables when babies wiggle and fall off.
Dana Fort, a dentist with a background in public health, developed the PooPoose™ after struggling to diaper her wiggly 6 month old daughter. Inspired by the medical papoose board used in dentistry and medicine to safely immobilize children, Dana developed the PooPoose to gently secure infants during diapering. Dana runs the company along with her husband Brian, an emergency medicine physician in Chicago who has seen many infants in the ER suffer traumatic falls from furniture such as changing pads.
Customers have praised PooPoose as a life-saver:
"As soon as my son turned 11 months and figured out he can just roll and walk-away, it became an everyday struggle to change his diapers. There were days where i would just try to make excuse for not changing his diaper..I know, sounds like bad mom!! But the fights and tears at every diaper change were just too much to handle. I had the changing pad with simple holder like every other pad in market, but it was not strong enough for my son. He would just roll to back and slide off. FINALLY i decided i really need something to stop this.
Then came the lifesaver….PooPoose. To be honest, i would never spend this much money on a changing pad, but i was desperate. All in all, i 'm super happy with result….1st time my son struggled, but couldn't get out. And its soft enough, so it wasn't actually poking his skin, but was just holding him in place. As soon as he realized that he can not get out of it, he simply stopped struggling and started playing with toy in hand. Next time i put him there, i didn't even need to put the straps, he just lay there and played with toy…and finally, the evertime-fight ended!!! Now-a-days, i don't even need to add straps, but its good to know that its there if i needed extra hand." – n'Joy
Others?
Do you know of mom-invented product that has changed your life or the life of someone you know? Tell us about it in the comments below.
Who's up for free stuff?
We're giving away some of these great products above, along with other fantastic mom inventions.
a Rafflecopter giveaway