Day 8! Gift of Great Expectations!
What greater gift is there than a new baby? The anticipation of baby's arrival is greater than all the holidays combined! Today, we've gathered some of the best gifts for expecting moms. Take a peek and meet the moms who created them. Then, enter to win!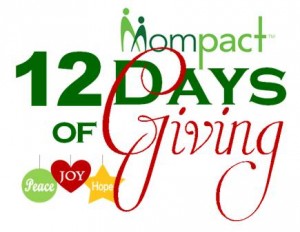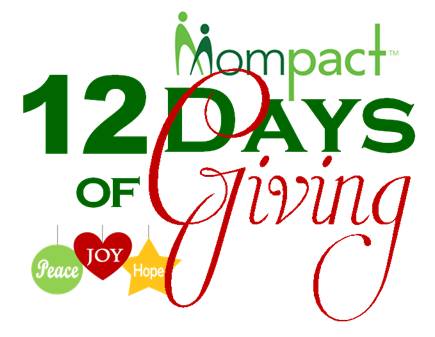 Today's products include:
– LillyBit, the stylish and super functional diaper clutch that makes changing easier
– PsiBands, FDA-cleared product for relief of morning sickness and nausea
– Push Pack, the perfect prepacked hospital labor bag for moms
Today's question: What one gift would you give an expecting new mother?


Enter your answer to win the daily prize here.
Today's prize is the stylish LillyBit diaper (or anything) clutch!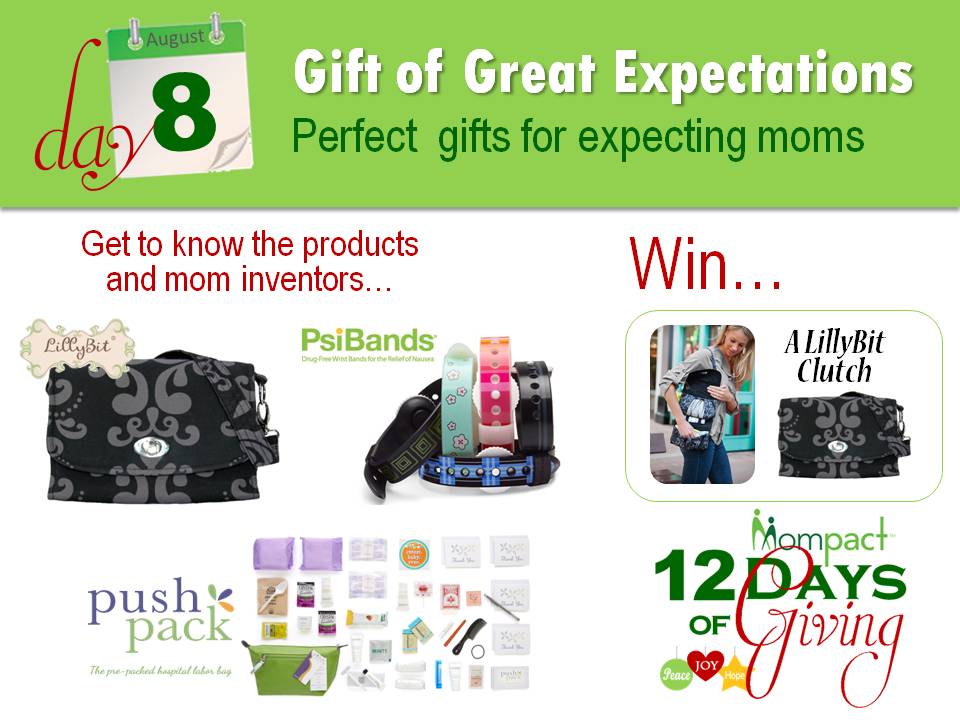 ---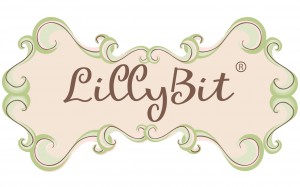 Meet Lyssa Surface and Jessica Schifman, owners of LillyBit:
LillyBit was founded by combining a long time passion for design with a new found love of motherhood.  Lyssa Surface (founder/owner) and Jessica Schifman (designer) take great pride in designing products that are unique, fun, practical and functional for fashionistas of all ages.
Lyssa Surface came up with the idea for the LillyBit Uptown Diaper Clutch after feeling frustrated changing her daughter in public restrooms. Lyssa didn't want to set her bag down on an icky countertop or floor, and had trouble diapering her baby while trying to find diapers and wipes in an oversized, heavy diaper bag.
When Lyssa couldn't find a small and stylish bag to accommodate her needs, she decided to create one. Enlisting the help of fashion designer, Jessica Schifman, to help shape her vision into a real-life product, the women collaborated, and talked to mothers to develop the uniquely functional LillyBit Uptown Diaper Clutch.
LillyBit has recently partnered with DEMDACO and has evolved as a brand by adding many new products and prints all focused on making on-the-go easier with little ones. Each product brought to market has both unique functionality and an exquisite attention to detail.
---

Meet Romy Taormina, creator of PsiBands: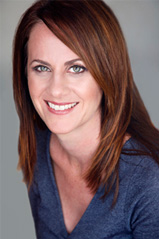 I always knew I wanted to run my own business, but had no idea that months of debilitating nausea would lead me there! I discovered the positive effects of using acupressure wrist bands to alleviate my nausea after experiencing numerous months of terrible morning sickness during my two pregnancies. Dissatisfied with existing products on the market that I felt were drab and uncomfortable, I hatched the idea for Psi Bands, an FDA-cleared product that is both fashionable and functional for others who suffer from nausea.
The resulting patented Psi Bands (pronounced "Sigh Bands") are drug-free wrist bands for the relief of nausea due to morning sickness (pregnancy), motion sickness/travel, chemotherapy, and anesthesia. With Psi Bands, those who suffer from the VERY common, yet debilitating condition of nausea can feel better – in style and comfort!
Psi Bands are being praised for their unique combination of features and benefits (visit our Testimonials and In the Press pages). They are drug-free, adjustable–around the wrist like a watch AND at the acupressure point, comfortable, waterproof, reusable, affordable, and, of course, fashionable.   Read More.
---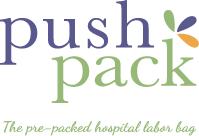 Meet Laura Magu, founder of Small Batch Studios and Creator of the Push Pack.


August 2007, founder Laura Magu gave birth to her first child.  While pregnant, one of the things she really struggled with was what to bring to the hospital for the labor / birth. There were lists out there, long lists. All of them had different things on them.  She found herself confused and overwhelmed with this seemingly simple task.
After her daughter was born, she came up with the idea of the Push Pack – an all in one bag, a pre-packed hospital labor bag, filled with the "essentials" a mom would want & need.   She interviewed a lot of moms asking them what things they were so glad to have or wished they'd had while they were in labor. The Push Pack includes the items that were mentioned most often.   Call it wisdom & experience, peace of mind, and a gift of love all wrapped into one bag.
Now Laura is the mom of three girls, and a twice Push Pack mom herself.   The company  has grown from a frustrated feeling to one that sells the Push Pack to moms all over the US .  Read more.
---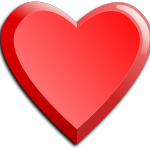 Support all of our Mompact mom inventors who helped #SSGiving bring gifts to so many this summer! Visit their pages and follow them on social media. You can meet them all here.
See upcoming Days of Giving here.